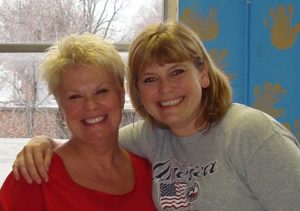 In 1996, I was a school psychologist in the Turner School District in Kansas City, Kansas. My job at the time was to work with children from birth through age 8. I helped families understand typical child development, but also helped locate local agencies that could offer them support.
I was so surprised at the time to realize how many families lacked the necessities of life. Many children slept on the floor. There were limited toys in the homes, let alone books. That Christmas my husband and I purchased gifts for five children so that they would have something to open on Christmas morning. We also delivered beds to a few children so they were no longer on the floor. The next year we had a few more children without Christmas, so we called in the financial support of a few friends and family members. My good friend Regina DeMoss, who taught special education in the district from 1986-2018, helped purchase a few items for the kids. The following year, people started calling US wanting to know how they could help! Regina now coordinates the Holiday Gift Program every year. She has volunteers in each building in the school district who help call families, get wish lists, do the shopping with donations, and raise funds.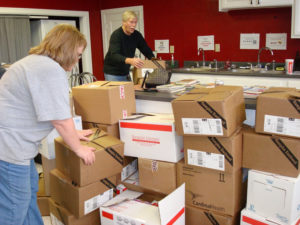 Because of the clear need, Hand In Hand was officially established as a public charity and has continued to grow for more than 20 years. The strength of Hand In Hand is based on being run completely by volunteers. It is with great pride that we can say that 100% of our donations go directly back out to children and families in need. We receive our referrals from professionals who work directly with children; mainly teachers, counselors, and social workers. I truly believe that these professionals know which children and families are in need. Because of this, Hand In Hand does not require proof of poverty, birth certificates, paycheck stubs, etc. If professionals who work with these children day in and day out tell us that a family is in need, we simply do our best to help.
Help from Hand In Hand comes from providing holiday gifts for hundreds of children each year. We know that there is no cure for poverty. We also know, however, that the best thing we have to offer those in our community who struggle– is DIGNITY. We never want children to know that their parents cannot provide gifts for the holidays. As far as the kids are concerned, the gifts come from the parents…..or Santa 🙂
We are asking for your support. All donations are tax deductible, and if you'd like a tax letter, let Regina know.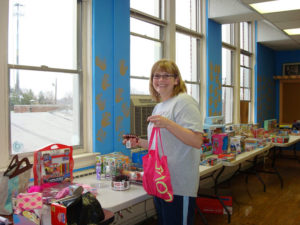 You may donate via our PayPal link or mailed donations can be sent to:
Regina DeMoss
Special Educator
4427 Bell
Kansas City, MO, 64111
If finances are tight, we certainly understand. We always say that Hand In Hand is not OUR work. We take none of the credit— and none of the blame. During the holidays, we operate on a wing and a prayer. We never know the number of children who will be sent our way, and we never know the amount of money that will be raised. We start our holiday shopping and simply trust that donations will come in to cover the expense. We have never been disappointed.
Thanks to all of you Santas who have supported us over the years! Hold your children tight and take the time to smile and laugh.
Sincerely,
Farrell Weiers PhD.
Family First Center for Autism and Child Development
5863 NW 72nd Street
Kansas City, MO 64151